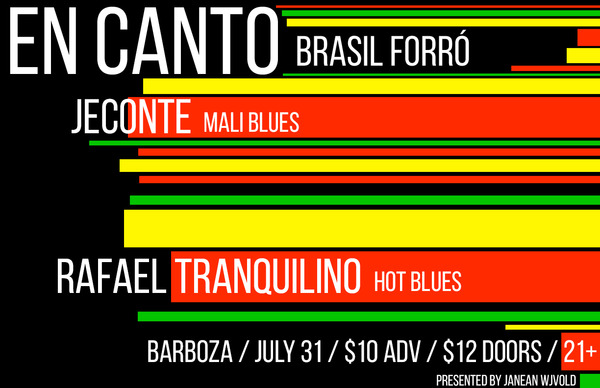 Rafael Tranquilino is an award winning guitarist melding his Mexican roots with American roots. Coming from Mexico by himself and making his way here in the music industry, price he was awarded as the #1 Blues Band for Washington State and his vocalist Leah Tussing was also awarded as the best jazz/blues vocalist 2014-2015.
An instrumental power house of guitar, bass, and drums with vocals that fuse rock, blues and funk in an alternative invocation of crossroads; past, present, and future. Tranqulino was born and raised in Mexico City. He plays the old fashioned Delta slide. His music is hypnotic; it has wings, lifting listeners to where the tension is on purpose to linger in the resistance before set free in sweet relief. RTB is a rocket ship ride going full speed through layers of atmosphere into outer space, but they deliver, and listeners will transcend from the ride.
En Canto is a high-energy, women-led Brazilian orchestra located in Seattle. En Canto Brazilian Orchestra features a seven-piece ensemble that includes vocals, accordion, flute, clarinet, percussion, bass and keyboard. They are known in the Seattle area for danceable rhythms and exotic melodies, which draws everyone onto the dance floor. Stop by and see all of the performers on July 31st! Click here for more information!