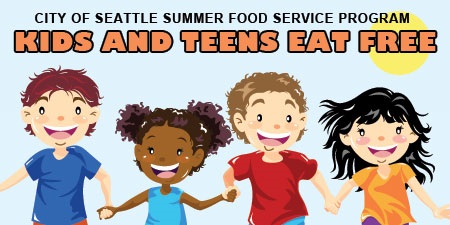 El Centro de la Raza is a site for the City of Seattle's Summer Food Service Program again this year! The program provides no-cost breakfast, lunch, and snacks to children and teens ages 1-18 and is open now through August 30, 2015.
Many children rely on free and reduced meal lunches at school for their daily nutrition, and as a result are often left stranded during summer break. The Summer Food Service Program began in the early 1970's in an effort to keep children healthy and fed during the summer and has grown immensely since then. The Summer Food Service Program is open to all children and teens and requires no application. Just show up at El Centro de la Raza's Santos Rodriguez Memorial Park from 12:00 – 1:30 pm and enjoy a free meal in the sun!
Click here to learn more about the program, and click here to find more summer meal sites throughout the City of Seattle.