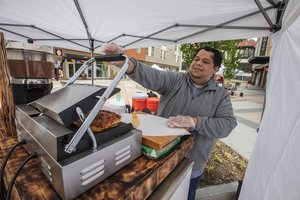 Six food carts have recently opened for business at Plaza Roberto Maestas! We are so excited to have graduates from our Business Opportunity Center classes sharing their heritage through food with us.
Our vendors are chosen through
an application process and are able to lease a cart, table and canopy for a year. This gives individuals who are hoping to open up a small restaurant down the road experience and a foot in the door! [Photo credit: The Seattle Times. Oscar Fernandez dishes up paninis and tamales to his customers].