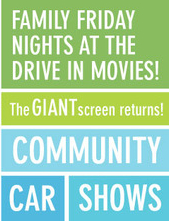 White River Amphitheatre is holding Family Friday Nights at the drive in movies as part of their 2015 Community Event Series. Watch the movie from your car, sale or bring a blanket or chairs and sit out under the starts! Sound will be broadcast through a sound system for those seated in front, prescription and simulcast via FM radio for the cars. Toy Story will be playing on Friday, store July 31st and Up on Friday, August 21st. The gates open at 7:00 pm with shows starting at dusk.
The Amphitheater lot will also host celebrations of car culture this summer with two unique car shows. The first, on Saturday, July 25th, is an import car show spotlighting drifting. The other is a custom car show showcasing multiple genres of vehicles on Saturday, August 1st. Both will feature vehicle displays, specialty product vendors, musical entertainment, food, and prizes! The shows are free and open to the public.
Check out www.facebook.com/WRAcommunityevents for more information.